Gas prices have been edging upward becoming more expensive. Driving a Ford Fusion Hybrid is a good way to defeat high gas prices. According to the fuel calculator provided online by the U.S. Department of Energy, the Fusion Hybrid can save a person an estimated $2,750 over five years. If you compare that to a regular sedan, there is an estimated difference of $3,500. This makes the Fusion Hybrid a very good deal.
What Kind of Fuel Economy is Estimated for the Fusion Hybrid?
The Fusion hybrid sedan earns an estimated 43 mpg* city and 41 mpg* highway. That's 42 mpg combined. Good fuel economy is like an ongoing rebate at the pump. Plus, it keeps your car competitive in the resale model. Affordable, the car is a value package with so many features already on board. When you add all of this up, it spells good news for a consumer who purchases the Ford Fusion Hybrid.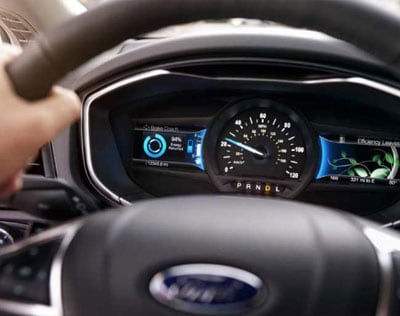 These sedans are especially spacious, providing 102 cu.ft. of passenger wiggle room. That's about 8 cu.ft. more than the Toyota Prius. It means a bigger back seat for your passengers.
A Fusion Hybrid is one of the faster members of its family. The combination of a four-cylinder engine and hybrid technology allows it to create 188 horsepower. By comparison, the Prius makes do with 121 horsepower. It's easy to see which one is more fun to drive.
Which Modern Technologies are Available?
The Fusion Hybrid SE comes packed with features. A ten-way power driver's chair is matched with a six-way power passenger chair. The rear seats can split-fold for extra cargo space. A dual-zone programmable thermostat and rear vents help everyone stay comfortable. Push button start and a rotary gear dial are part of the updated cockpit.
On the dash, there's a Sync 3 touchscreen. You can access hands-free connectivity, and navigational aids. For crash avoidance aids, there is a long menu of high tech features. The Pre-Collision Assist now has Pedestrian Detection for an even more effective automatic braking system. An enhanced Active Park Assist takes the guesswork out of parking. For stop and go traffic, Ford Adaptive Cruise Control can regulate your speed.
Visit Us Today
Whether you are wanting a fine sedan, a high-tech wonder or a smart fuel sipper, you can find all three in the Ford Fusion Hybrid. Keep your costs low and drive as far as you want. Test drive the Fusion Hybrid at Peoria Ford.
* Based on 2018 EPA mileage ratings. Use for comparison purposes only. Your mileage will vary depending on how you drive and maintain your vehicle.