Safety should be your number one priority when in the market for a new vehicle. After all, it doesn't matter how stylish a vehicle looks, how fast it can go or how well it performs if you can't also be assured that it will protect you and your family in the unfortunate event of an accident. Luckily, automotive technology has come a long ways in recent decades, and virtually all new cars now feature a wide range of advanced features designed to keep you and your family safer on the road. Still, some vehicles obviously perform better than others in this all-important category, which is why it's important to check out the crash test ratings for any vehicle you're considering. In this sense, the fact that the 2018 Ford Expedition was the only vehicle in its class to earn the government's highest five-star overall safety rating means that it is definitely a fantastic choice.
Safety and Performance in One Outstanding Package
When it comes to the latest state-of-the-art safety features, no other full-size SUV can even begin to compete with the 2018 Expedition. In the most recent National Highway Traffic Safety Administration (NHTSA) crash tests, the Expedition managed to easily best all of its rivals to earn the government's highest possible overall safety rating. By scoring a perfect five-stars in both front- and side-impact crash tests, Ford's flagship SUV once again showed that the manufacturer's dedication to improved safety is truly paying off.
When you step behind the wheel of the 2018 Expedition, you can drive confidently knowing you and your loved ones are protected by a huge range of the latest safety features and technology. The Cross-Traffic Alert and Pedestrian Detection features can help to ensure you're aware of any potential dangers. Better still, the state-of-the-art Pre-Collision Assist will automatically take over when a collision is imminent in order to either help prevent a crash or minimize the damage that occurs. Parking is also a whole lot easier in the all-new Expedition thanks to its advanced Park Assist system, which helps to simplify the task of parallel parking while also making it a whole lot safer.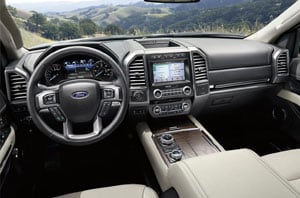 How Has the Design Been Upgraded?
In addition to the range of advanced safety features, the 2018 Expedition has a completely revolutionized design that also contributes to it receiving such outstanding NHTSA ratings*. The SUV features a new fully boxed steel frame that is reinforced by military-grade aluminum alloy, which help to make the vehicle 325 pounds lighter than previous versions and also better protect you and your passengers should an accident occur. The fact that the new Expedition is so much lighter also means it offers improved fuel efficiency and better performance and handling. As well, the vehicle's interior has also been upgraded with more advanced features designed with the safety of you and your family in mind.
Visit Us for a Test Drive
All of these factors combine to make the new 2018 Ford Expedition one of the safest SUVs currently on the road. It also just happens to be one of the most fun SUVs to drive—no matter whether you're heading out on the highway or off-road. For this reason, we invite you to visit us at Peoria Ford so you can check out this fantastic vehicle in person and take it for a spin. Our knowledgeable sales staff will also be happy to answer any questions you may have about the Expedition safety features or anything else, so don't hesitate to stop by or give us a call.
* NHTSA Government 5-Star Safety Ratings are part of the U.S. Department of Transportations New Car Assessment Program (www.safercar.gov). Model tested with standard side airbags (SAB).