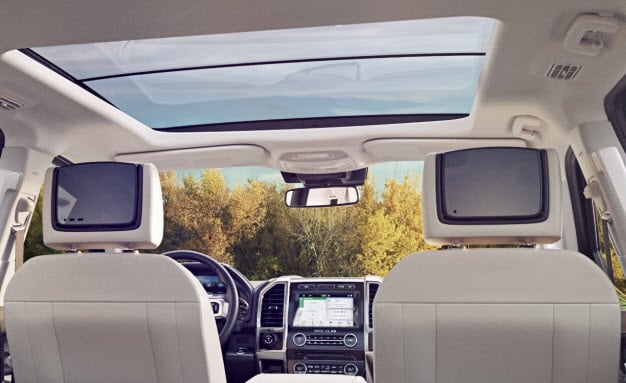 When the 2018 Ford Expedition arrives on the market, buyers will have the option to add on a dual-headrest rear seat entertainment system capable of playing movies, video, and now for the first time, live TV! With this new capability and so much more, the Expedition is expected to be one of the most sought-after SUVs for the 2018 model year.
TV & Live Sporting Events
Rear seat passengers in the 2018 Expedition will now be able to watch live TV on the entertainment system's two 8-inch monitors. SlingPlayer software has been embedded into the system, which allows passengers to connect to home-based Slingbox system in order to stream live shows and events. With this latest improvement, you'll never have to miss a game again.
SmartStream Function & Smartphone Streaming
Through the use of SmartStream, passengers can stream video straight from their smartphone onto the rear seat monitors. Additionally, Miracast streaming lets passengers watch content on their Android phones. Passengers in the third row can also connect to the Wi-Fi network using a downloaded app and watch exactly what's streaming on the video displays. This ability is offered on up to three devices.

Gaming & Other Content Sources
Using the HDMI port, gamers can plug in their system and play with no problems. Passengers can also utilize a USB port that doubles as a charger, insert an SD card or use the DVD player to watch their favorite movies.
The rear entertainment system comes equipped with two wireless headphones and a standard headphone jack in each monitor. Sound can also be played through the car's stereo system. Additionally, passengers can control the monitors using two remote control devices, touch buttons on the bottom of each display or a remote control via mobile app.
Check out the 2018 Ford Expedition and its rear seat entertainment system when it arrives at Peoria Ford later this year.