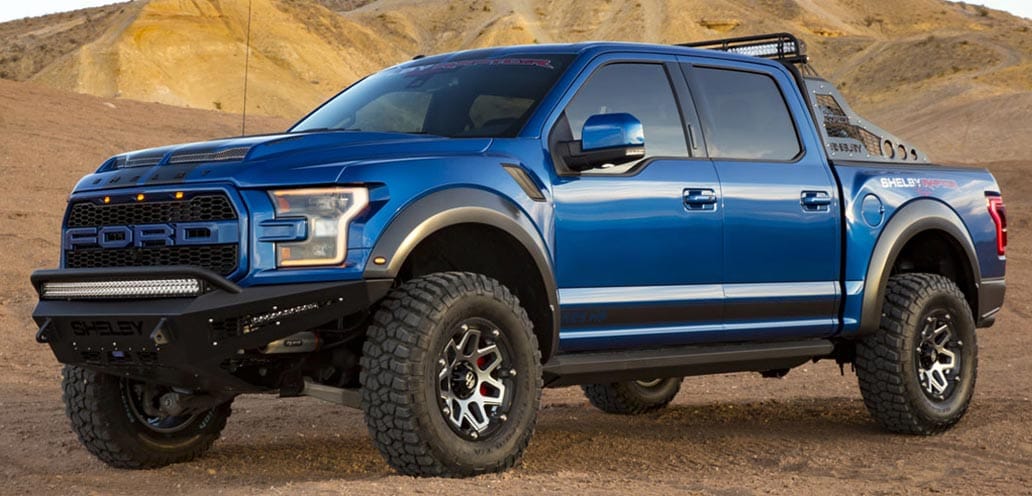 What Are High Performance Vehicles?
High performance vehicles are built for handling and pure speed (performance). The transmission, engine, and similar components combine together to give you a vehicle that's heavenly to drive. When you think of high performance vehicles, you typically go straight to the sports cars, but there are also high performance pickup trucks that are just as sleek and fun to drive as sporty cars. That's the kind of vehicle you can expect to find on our lot here. In this case, your golden era performance truck is your Shelby lineup of trucks (F-150, Raptor Baja, and Shelby Diesel). These trucks are well-known in their beginning trims, but when you buy a Shelby, you're buying pure performance. Peoria Ford is the ONLY authorized Shelby Truck dealer in all of Arizona, so if you truly want a Shelby truck, you've got to come here. We're the real deal.
Ford Shelby Truck High Performance Headquarters
We're the authorized dealership to turn to in the state of Arizona. You're going to love our selection and quality, because even if it's a Shelby, it has to meet our high standards. Every truck that rolls onto our lot is fully inspected by our certified auto mechanics to ensure that it's picture perfect in all ways: Exterior, Interior, and of course, Performance-wise. We don't sell anything but the finest high performance Shelby vehicles here.
You'll find that our sales team takes their job as seriously as you take Ford Shelby trucks. When you buy this kind of vehicle, you're making a serious financial investment, and we take that investment as seriously as one of our own. You expect the highest performance vehicles on the planet, and that's what we deliver, and we're authorized to do so. Shelby vehicles aren't entrusted to just any dealer, which is why we remain the only authorized Shelby Truck dealer in all of Arizona. We take that distinction and honor seriously, and you'll find our team is always helpful in helping you find that high performance truck that matches your personal taste and needs. We're always there when you need your questions answered and provide extensive information about all of our trucks online and on the lot.

Contact Us Today For More Information
Owning a Shelby is a special experience from the shopping phase to the time you drive it home. Test drives are another important part of that experience, and you'll have the most expert salespeople in the business during your test drive (or drives). We want your shopping experience to be easy, stress free, and fun! So if you're interested in buying a Shelby from us or just have some questions to ask about this specific high performance truck, it's time to give our salespeople a call. We'll always be here for you to help you enjoy the experience of buying a Shelby, and then we'll be there as you enjoy your Shelby truck over the years, always helping during maintenance and repair. We're here for you every single step of the way. For more information about Shelby trucks, just give us a call today, write to us on our website, or say hi to us at our dealership. We're always here, ready to help you love Shelby trucks as much as we do.