Ford Commercial Trucks: Sales, Financing & Service
Peoria Ford Commercial Trucks carries some of the most reliable, heavy-duty Ford Work Trucks and Commercial Trucks in Phoenix, Arizona. If you've tried Earnhardt Ford Commercial Trucks, Sanderson Commercial Trucks, or Bell Ford Fleet Sales, visit Peoria Ford Commercial Trucks today. Not only do we have a great selection of class-leading models for Phoenix-area shoppers like the 2021 Ford Super Duty Pickup, F-650 & F-750, Ford Chassis Cab and the new Transit Connect Work Van, we also provide Ford Fleet solutions for local businesses! With Peoria Ford, commercial truck sales in Phoenix have never been easier; simply contact us and let us know what you're looking for, and we'll find it for you at prices other Phoenix commercial truck dealers won't be able to match.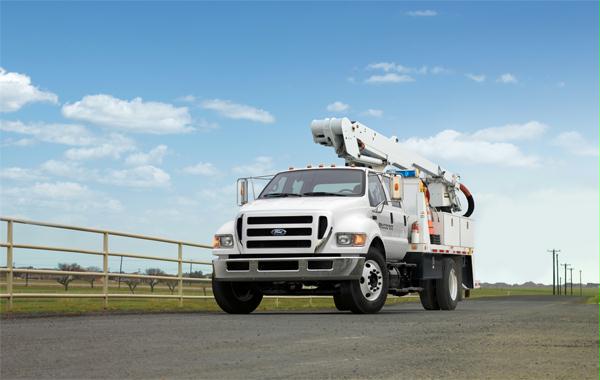 Peoria Ford Commercial Trucks proudly uses the finest truck upfits from well-known brands like Knaphide, Reading, Curt, RKI, Adrian Steel, Maxon, and Kargo Master, to name a few. Outfit your Ford Commerical Truck for any job; from hauling upfits and storage systems to stake bed and dump truck upfits, we promise you that your Ford Work Truck will get the job done.
We can make that promise because we work with amazing local fleet solutions companies like Auto Safety House, SE Inc., and Drake Equipment to provide us with the best upfits in town. And when it comes to fleet management companies, we service Wheels/MAP, GE Fleet, Donlen Leasing, Emkay Leasing, ARI, and Lease Plan. Before thinking about Sanderson Commercial Trucks, Earnhardt Ford Commercial Trucks, and Bell Ford Fleet Sales, visit Phoenix's leading commercial truck dealer - Peoria Ford Commercial. Our experience and expertise in serving the Valley with uncommonly creative solutions for businesses of all shapes and sizes sets us apart from any other organization in the Phoenix area.
At Peoria Ford Commercial, we don't just sell new and used Ford Commercial Trucks, we service them as well. If you're looking for quality Ford Commercial Truck Repair in Phoenix, Peoria, Glendale, Chandler, Mesa, or Scottsdale, you've come to the right place. Our certified technicians operate out of our new, state-of-the-art facility with OEM parts to ensure that you're Ford Work Truck or Van continues to serve you and your business for years to come.
If you need affordable, manageable solutions to motivate your business, take a look around Peoria Ford's Commercial Truck, Van and Police Interceptor pages to see the variety of things we can do for you. Our sales and service departments are committed to giving our customers the best-possible service and the toughest, longest-lasting vehicles on the market. We can give your business the edge it needs to beat out competitors and increase your market share with our hardworking line of new and used commercial trucks and the finest commercial truck repair in Phoenix.
Peoria Ford Commercial Trucks is Arizona's premier Ford Fleet Business Preferred Network (BPN) Dealer, conveniently located between the North and West Valley in Peoria, AZ.
Contact Commercial Dept
* Indicates a required field
Peoria Ford Commercial/Fleet Hours:
Monday

7:00am to 6:00pm

Tuesday

7:00am to 6:00pm

Wednesday

7:00am to 6:00pm

Thursday

7:00am to 6:00pm

Friday

7:00am to 6:00pm

Saturday

7:00am to 12:00pm

Sunday

Closed