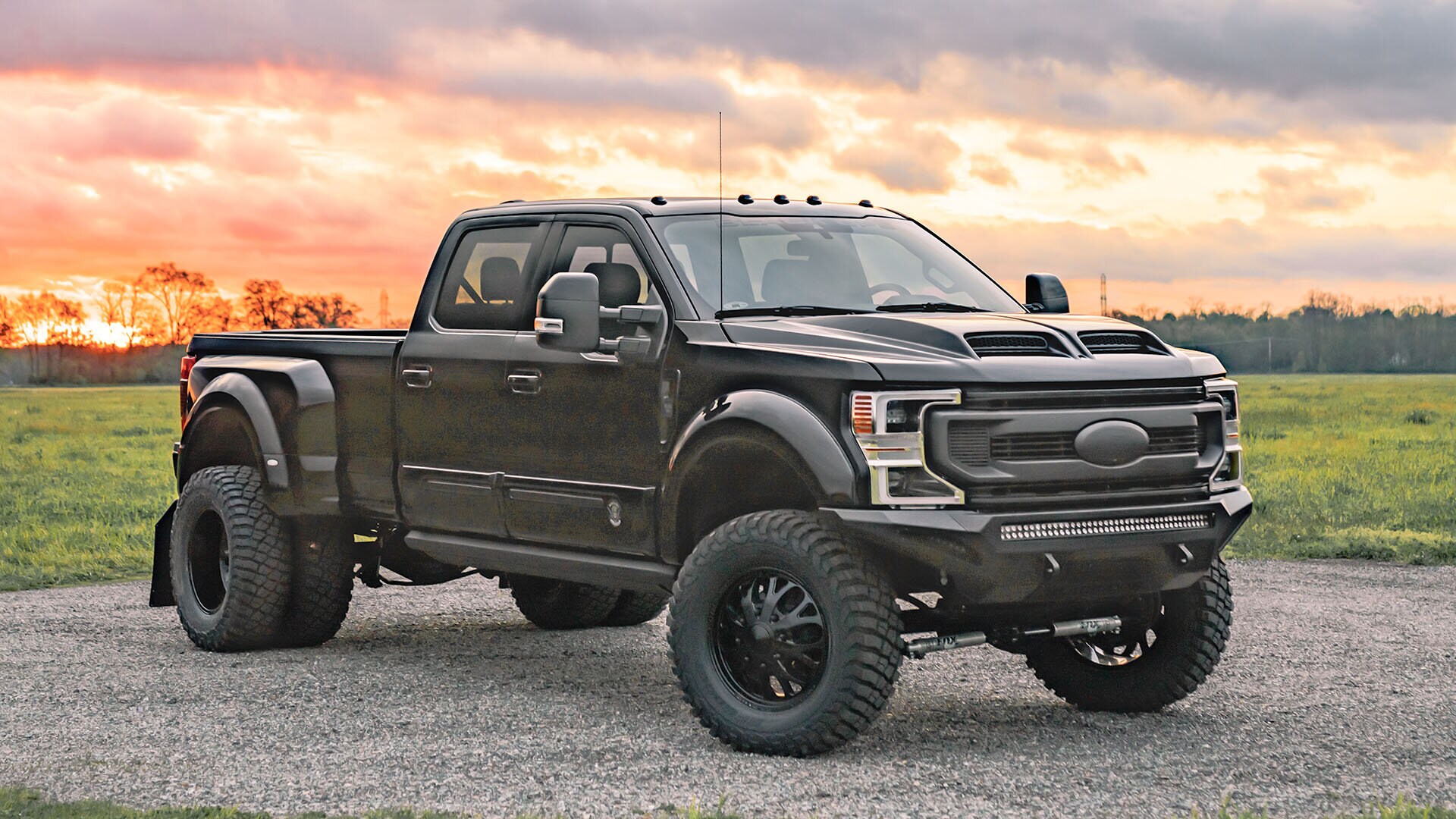 Tuscany, a premier specialty truck builder, offers exclusive high-quality and high-performance Ford trucks to choose from. Some of the trucks you'll find in our lineup are the Black Ops models of Ford's legendary F-Series of trucks, a unique Harley-Davidson selection of the Ford F-Series, and the FTX lineup, which is a unique collection of Ford vehicles made with a sporty yet luxurious appearance.
FORD BLACK OPS MODELS
If you are a supporter of U.S. military veterans, then you'd want to check out the Black Ops trucks. The Black Ops series is a specialized series of the popular Ford F-150, Ford F-250, and Ford F-350 models. With these trucks, you'll get a lifted vehicle finished in an all-black paint color scheme. The Black Ops trucks are made with high-end performance components, and they have some of the most luxurious interiors available on a Ford with leather upholstery and premium technology. There are many opportunities for a personalized finish with your Ford Black Ops, including a custom body kit.
FORD HARLEY-DAVIDSON MODELS
Harley-Davidson Ford trucks are made in collaboration with America's most famous and iconic motorcycle brand. Therefore, you'll find some of the same characteristics on Harley Ford trucks taken from the company's motorcycles, such as black paint colors with orange accents and matching interiors. The Harley-Davidson range of trucks includes the Ford F-150 and the Ford F-250. With over 70 proprietary components, there are many ways to give your Harley-Davidson truck an authentic look. Fox shocks, BF Goodrich tires, and an SRS suspension system are just a few of the special components available to complete your truck. You can also order a 700+ HP engine for the Harley-Davidson F-150.
FORD FTX MODELS
The FTX series includes the Ford F-150, F-250, and F-350. If you want a Ford with awe-inspiring off-road capabilities, the FTX may be just the truck you need. A few FTX series highlights include a locking tonneau cover, a chrome exhaust system, custom "fire" wheels, and exclusive FTX front bumpers with integrated LED lights in a signature C-shape design. The FTX series of trucks can also be customized in many ways.
Contact Peoria Ford today for more details on our specialty Ford Tuscany trucks.