The experts at Ford have been producing iconic and popular vehicles for decades. Ford vehicles enjoy this popularity for many reasons that include constant technological upgrades that improve the driving experience on every level. The 2019 class of Ford vehicles keeps up this tradition with a wide variety of must-have new features. These special features are reflected in vehicles from every class, including pickup trucks, SUVs, and passenger sedans. Plus, individuals who enjoy these cutting-edge features can experience them in person by taking a look at the extensive inventory of vehicles at Peoria Ford.
Must-Have Ford Pickup Truck Features
The extensive line of pickup trucks provides drivers and passengers with many new and valuable features. The 2019 Ford Super Duty is a good representative of this vehicle line.
The 2019 Ford Super Duty is a full-size pickup truck with large and roomy Crew Max cab. While this vehicle looks good in any venue, it has several features that make it a good choice for work purposes. For example, the 2019 Ford Super Duty boasts a 6.7L Power Stroke engine with Turbo Diesel capability added for good measure. This motor puts out a class leading 935 foot-pounds of torque that is solidly backed up by 450 hp. This level of torque and power makes this feature a must-have for drivers who need to tow significant loads.
Another Ford must-have technology that is featured on the Super Duty is the proprietary engine braking system. The Super Duty is capable of towing very large loads, and this kind of capacity requires considerable stopping power on the other end. The Ford engine exhaust braking system uses turbocharger back pressure to slow vehicle motion. This feature is a great addition to the high-performance four-wheel disc braking system.
Must-Have Ford SUV Features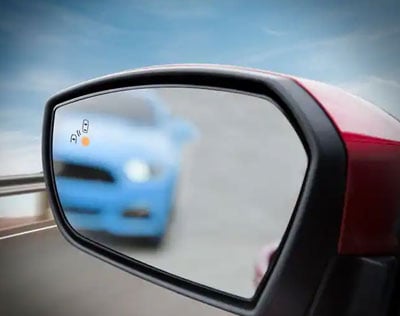 Ford also puts out many types of SUVs. While Ford SUVs are designed for both on and off-road situations, they also offer many cutting-edge technologies that make life easier for drivers and passengers. The 2019 Ford EcoSport SUV is a good example of some of the available technological goodies.
The 2019 Ford Eco-Sport SUV offers a specialized service that also appears in many other Ford activity vehicles. Known as FordPass Connect, this service equips vehicle occupants with 4G hotspot coverage. In addition to creating a dedicated Internet gateway, this system also allows operators to issue many remote commands that include vehicle starting, door locking, and even monitoring fuel amounts. Plus, this technology also allows drivers to get help in emergencies from services such as roadside assistance.
Another must-have feature found in Ford SUVs is the MyKey system. This is designed for parents or other caregivers of new vehicle operators, and it gives them remote control over many key features. For example, the Ford MyKey system allows users to control speed and enforce the use of safety belts.
Ford Must-Have Sedan Features
Ford passenger cars also offer many invaluable technologies. These include the SYNC 3 system, adaptive cruise control, and Ford + Alexa service.
Adaptive cruise control is a must-have technology that can take much of the effort out of driving. Once activated, it can perform many routine driving maneuvers. For example, the adaptive cruise control system can speed up or slow down depending on the overall flow of traffic. In addition, the system employs a forward collision alert system that can activate the brakes if crashes are imminent.
Another must-have Ford technology is the SYNC 3 system. This technology brings the convenience of voice-activated controls to drivers. They can use this service to control personal smartphones and find important destination related information. The Ford SYNC 3 system works hand-in-hand with the Ford + Alexa service that gives vehicle operators remote control over included Smart Home systems.
This long list of desirable features is just a small sampling of what Ford vehicles have to offer both drivers and passengers. To hear and experience more, we cordially invite drivers who appreciate cutting-edge safety, technology, and connectivity features to contact us or pay us a visit today at Peoria Ford.