Is the air conditioner in your Ford making you feel uncomfortable while you are behind the wheel? When any of your car's AC system components are damaged or dirty, various issues can develop. These issues can make the inside of your car smell bad, or they can affect the climate in the vehicle. Whether you use your Ford for commuting, as a family car or for some other purpose, you understandably want you and your passengers to be comfortable at all times while cruising down the road. As soon as you discover a potential issue with your Ford AC system, turn to the pros in our service center for assistance.
My Ford AC System Will Not Generate Cool Air. Can You Fix This Problem?
If you enjoy only a brief moment of cool air followed by a continuous stream of warm air from your car's AC system, there is a possibility that this could be caused by damage to your system's valves, fuses, compressor clutch or seals. On the other hand, if the air is constantly warm from the moment the AC is turned on, the problem may be related to a Freon leak. Issues related to the compressor, blower, vacuum seals or condenser could also be present. With so many possible causes of this type of AC issue, the first step in the repair process is to run a diagnostic to identify the primary cause.
The Airflow From My Ford Air Conditioner Is Weak. What Can You Do to Help?

There may be many times when you prefer to run your car's AC on the lowest setting possible. On hot days, however, a full blast of chilled air is essential for comfort. With weak airflow, the AC may only seem to blow on the lowest setting regardless of your adjustments to the controls. This situation is often caused by a moldy evaporator case or damaged seals and hoses. At our service center, we keep most repair and replacement parts on-hand so that we can complete AC repair work for you as soon as possible regardless of the type of work that is needed.
What Happens With a Leaking Auto Air Conditioner?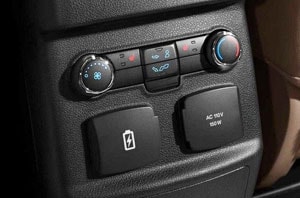 You may be aware that moisture is present underneath your Ford when the car is parked and the air conditioner is running. This is normal moisture that you should not be concerned about. However, other types of moisture, a decrease in air pressure or a struggle to control the air temperature may be signs of an AC leak. Even a tiny leak can be identified through various symptoms, and it can also result in severe damage to your AC system if it not repaired quickly by skilled auto technicians. This is because the refrigerant in your AC system can mix with air that penetrates into the system through the leak. This interaction creates a damaging and corrosive substances that can damage or destroy the AC system. All suspicions of a leak should be diagnosed as soon as possible.
Why Does My Ford Stink When I Run the Air Conditioner?
Driving around town in a smelly vehicle is never pleasant. When the air conditioner is to blame, you may think that no solution is available. However, the good news is that something as simple as replacing a dirty or old AC filter can eliminate the odor. In addition to a dirty air filter, another cause is mold growth on the evaporator case. Mold may begin to grow in this location when a clogged drain line results in moisture accumulation. Cleaning the mold and professional removal of the clog will resolve the smelly problem that you are dealing with. Reach out to our technicians today for help with any AC issues in your vehicle.
Service Hours
Monday

7am-6pm

Tuesday

7am-6pm

Wednesday

7am-6pm

Thursday

7am-6pm

Friday

7am-6pm

Saturday

7am-5pm

Sunday

Closed