Here at Peoria Ford, we take car maintenance seriously, which is why we encourage all Ford owners to have their car tires inspected annually to avoid premature wear. For every 10,000 miles your vehicle accumulates, you should receive tire service, including a wheel alignment and tire rotation near Phoenix. By following your Ford's recommended maintenance schedule included in your owner's manual, you can prolong the life of your tires and keep your car running smoothly.
Schedule an appointment with our service center if you're in need of tire maintenance in Peoria.
How Do I Know If My Tires Need to Be Replaced?
Many different factors can contribute to tire wear and eventual tire replacement. Below are a few of the most common ones you should keep in mind when determining if you require new tires for your Ford car, truck or SUV.
Tread Wear
One of the first things you should look at when deciding if you need new tires is the tread. Use the penny test to discover if your tread is too low and tire replacement is a must. Just place a penny in the tread with Lincoln's head pointing down. If you can still see the top of his head, your tread is dangerously low and new tires are recommended.
Damage
If you spot bubbles, cuts or foreign objects in your tires, take your car down to our service center immediately. You could have internal damage or an air leak which could require tire replacement.
Performance
Vibration in your steering wheel is a sign you may need new tires. If you also find yourself needing to fill your tires with air often, it could be time for a new set. Everything from fuel economy to your car's overall performance can be affected by these issues.
Age
Are your tires six years old or more? It's a good chance you need new tires. The Arizona heat also speeds up wear, which could cause you to need tires earlier than expected.
Peoria Ford - Tire Shop Near Me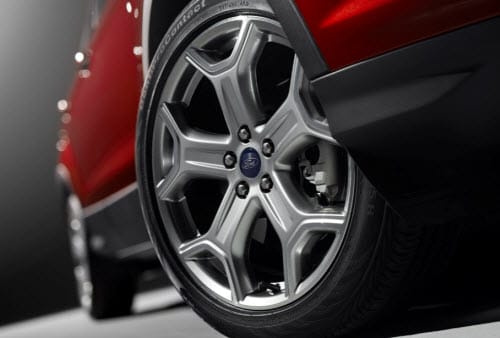 We proudly offer several tires services and maintenance options at Peoria Ford. If you need your tires inflated, tire rotation or wheel alignment near Phoenix, we have you covered.
Need new tires? We can help you with that too. Avoid the woes of discount tire shops and head over to our dealership to receive assistance from factory-trained service technicians. You'll find several top brands in our inventory, including Goodyear tires, Michelin tires, Bridgestone tires and more.
Contact us
today for further information.