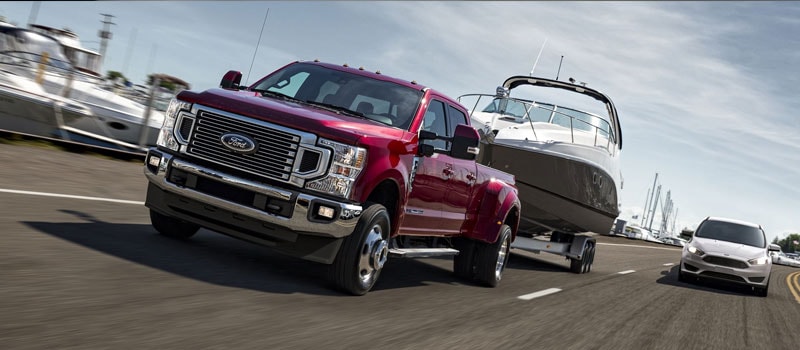 We are excited about a new announcement from Ford in Peoria. The auto giant now mass produces an incredible engine with best-in-class ratings.
Ford New Engine Specs
America's automotive leader now builds the biggest gas-only engine ever widely manufactured. A V8 setup, it displaces 7.3 liters. This huge engine optimizes overhead-valve ingenuity to maximize low-revolution output. As a result, Ford new power plant creates 430 horsepower and 475 torque foot-pounds at 5,500 RPM.
New Ford V8 Capabilities
The automaker designed a new transmission to fully capitalize on this engine's output. Emblazoned with Ford TorqShift brand, this automatic transmission deploys 10 gears. It's the perfect companion to the new V8, helping this heavy-duty pickup haul heavy loads. Use its rugged capabilities to move bricks, transport hefty tools or tow a large camper.
How to Access Ford New Engine?
Currently, Ford offers its latest gas-powered engine through its F-Series truck line. If you choose a Super Duty F-250 or F-350, you will access this engine, which provides best-in-class gas-derived power to each of those pickups. Other models in the F-Series offer a less-beefy version of this engine. Those include the F-450 Chassis Cab and the Medium Duty F-550, F-600, F-650 and F-750. Ford also puts this version on its commercial-focused F-53 and F-59, which feature stripped-chassis configurations for aftermarket modifications. Even in its scaled-back variant, the new Ford engine provides 350 horsepower to these models.
Ford New V8's Future
Ford may broaden its new V8's availability later. We look forward to the automaker possibly putting this behemoth engine in a Mustang or an SUV.
Come Drive Ford New Engine
To learn more about Ford innovative V8, visit our friendly dealership. If you contact us in advance, we will happily schedule a test drive for you.