About Peoria Ford C-Max Reviews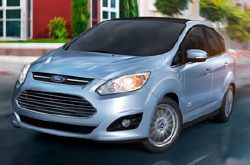 Hybrid efficiency meets sleek styling in the new 2014 Ford C-Max. Packed with leading technology features, capable engines and a comfortable interior, the C-Max continues as the go-to hatchback for drivers that want a cool mix of strong performance and excellent mpg.
"With impressive fuel economy, there's less sacrifice to be made in the driving enjoyment department with a solid, dialed-in chassis and peppier drive. It might not have the Prius name recognition but the C-Max is certainly a serious rival to the Toyota family hybrid," writes AutoGuide.com. And it's true: why must drivers always give up a fun ride for fuel efficiency? With the 2014 Ford C-Max they don't have to; in fact, it can jump from 0-60 about two seconds quicker than other hybrids, including the Prius.
The 2014 Ford C-Max is available in Peoria in hybrid and electric models, with the hybrid appearing in SE and SEL trim levels. The electric C-Max Energi comes in a single SEL trim level. This year, the C-Max hybrid and Energi are expected to achieve better fuel economy than their Toyota Prius V and plug-in counterparts. Both the hybrid and Energi come loaded with a 2.0-liter four cylinder engine and an electric motor/lithium-ion battery setup. While the hybrid runs on electric and gas power simultaneously, the Energi is capable of running on electric-only power for up to 21 miles.
If you plan on reading any more Ford C-Max reviews, you'll find that its clean, comfortable cabin and strong level of standard and optional features are just too much to resist. Count on the following: dual-zone climate control, a leather-wrapped steering wheel, SYNC and MyFord Touch, keyless entry/push-button start, leather seats, heated front seats, a hands-free rear power lift gate and much more. For more information continue reading the Ford C-Max review below or contact Peoria Ford, a leading Phoenix-area Ford dealer, with any additional questions.