About Peoria Ford Mustang Reviews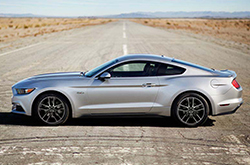 1964 was the start of something big: It was the birth year of a stallion, future automotive legend and Hollywood star - the Mustang. An embodiment of Ford's passion for performance and what some would call the soul of the brand, Mustang embodies the automaker's spirit of ingenuity, freedom and optimism.
2015 is the pony's grand semicentennial and Ford doesn't celebrate 50 years of muscle car leadership quietly. Rather, they gave Mustang a full redesign in honor of its milestone anniversary! For longtime fans and those just getting to know the legendary roaster, the latest model will exceed all expectations. It continues to take performance to new levels, while also placing a new focus on efficiency and technology, and its looks are an attractive evolution of the preceding design. Residents in the Phoenix area can test drive a new Ford Mustang in Peoria!
Edmunds.com editors have a word of advice for anyone in the performance car market, stating: "Place your money on Ford's horse, we think you'll be pretty happy with the ride."
Other 2015 Ford Mustang reviews agree. With the integration of all-new front and rear suspensions, greater V-8 power, new steering-wheel shift paddles on the automatic transmission and an advanced new stability control system, 'Stang delivers optimal performance whether your running errands around town or driving on a windy back road.
In addition, both the coupe and convertible now offer an all-new 2.3-liter turbocharged four-cylinder Ecoboost that packs 310 hp and 320 lb.-ft. of torque. The 3.7-liter V-6 is still standard, and for all of you daredevils out there, GT models offer a 5.0-liter V-8 that boasts 435 hp and 400 lb.-ft. of torque (with 93-octane fuel).
Phoenix Ford Mustang lovers won't want to miss a chance to see the sixth-generation 'Stang up close. With a lower stance, menacing front fascia and optimized performance, it's a feast for the eyes and the senses. Visit us soon to see the all-new 2015 Ford Mustang in Peoria, Ariz., and you'll see why the latest rendition of the car is already drawing applause from a global audience. Continue reading Peoria Ford's 2015 Ford Mustang review below.