Quality Ford Transit Research From Peoria Ford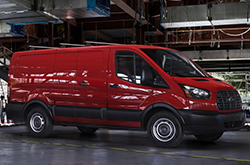 For entrepreneurs and professional fleets, Ford's commercial vehicle series is a top choice. Whether you're looking for an easy-to-maneuver passenger wagon or a heavy-hauling van that doesn't break a sweat, 2015 Ford Transit and Transit Connect reviews agree that the Blue Oval's commercial vehicle options deliver the versatility, dependability and capability that businesses demand.
Efficient powertrains aid drivers in completing jobs with a minimal footprint, while available upfit packages (with racks, bins and shelves) offer an array of customization options, so van owners can make the smartest use of space. If you purchase a 2015 Ford Transit in Peoria, you'll also have a choice between two wheelbases and three roof heights, including a high roof that offers enough headroom for individuals up to 6'4" tall. For people carrying tasks, the Transit Wagon can seat up to 15 passengers and an available 6.5-inch touch-screen display with navigation will ensure that your drivers make it to all of their destinations using the fastest routes possible.
If you don't require a full-size van or wagon, then consider investing in a compact 2015 Ford Transit Connect or Transit Connect Wagon in Peoria, Ariz. Nimble and urban-friendly, the Transit Connect has a strong work ethic that shows in its impressive mpg ratings and 1,600-pound payload capacity. Like the full-size van, Connect is offered with several technologies that turn it into an excellent mobile office and make it easy for fleet leaders to oversee their drivers. For example, Crew Chief telematics allows fleet managers to monitor several vehicles at once and track speed, location, fuel economy, maintenance needs and excess idle duration. The system is also offered on the 2015 Transit Connect Wagon, which provides seating for five to seven passengers and the ability to haul up to 1,270 pounds when needed.
See the rest of our 2015 Ford Transit and Transit Connect review below. Also, if you would like to explore features, engines and customization options in person, please fill out our online contact form to schedule an appointment with a sales rep.