As the source of power for the ignition system, fuel system, starter and nearly every electrical component, the battery plays an  important role in how your vehicle operates. Having a healthy car battery in Arizona can be a difficult task due to our desert climate, but it is possible by carrying out routine battery maintenance.
To ensure your Ford car battery remains in tiptop shape, here are a few services you can have performed by one of our qualified  technicians at Peoria Ford's service center:
Battery Diagnostic Test
Having a battery diagnostic test performed on occasion can help you determine how much life your car battery has left. It's one of the quickest ways to determine if you need car battery replacement in Peoria.
Battery Cable Inspection
Battery cables are connected to your battery's terminal posts by battery cable ends. If these become damaged, they can cause your battery to malfunction. To prevent this, you should have your cable ends routinely inspected and replaced, if needed.
Battery Terminal Cleaning
Dirty or corroded battery terminals can lead to premature battery wear. By having your battery terminals cleaned at Peoria Ford, our technicians can help prevent this from happening and ensure your battery is in  great condition.
Do I Need Car Battery Replacement?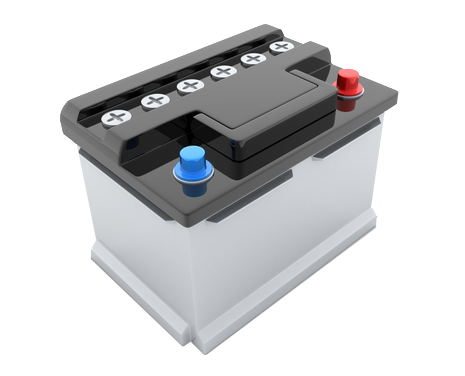 Arizona summers are not kind to your car's battery. Due to the excessive heat, you'll likely find yourself in need of a new car battery in as little time as two years. In many cases, Ford owners often discover their car battery is dying once it's too late and a battery charger is rendered useless, but there are a few symptoms you can look out for to catch it early on.
Here are a few of the most common signs your battery is kicking the bucket:
Low battery fluid
Check engine light is on
Battery leak
Headlights are dim
Bloated battery case
Slow engine crank
Weak horn
Any of these symptoms look familiar? If so, schedule an appointment at our service center, and we'll have a technician assess your Ford car battery.
Where to Purchase a New Car Battery Near Phoenix
Avoid purchasing cheap batteries at discount auto shops and come to Peoria Ford instead! We offer competitive car battery prices that will surely suit your budget. As experts in our field, we can help you find the right battery for your Ford model.
Be sure to visit our dealership today to talk with one of our service members regarding our battery inventory and battery services.