Brakes are the single most important safety system on your vehicle, however, when it comes to brake maintenance, many people have a lot of questions about them. Some of these questions include:
When should I get my brakes checked?
How can I tell if my brakes need attention?
Where can I find brake service near me?
At Peoria Ford, we are here to give you all the information you need to keep your brakes in peak condition! That way you can protect both yourself and your passengers, as well as others on the road, from any hazardous situations.
When Should I Schedule Brake Inspections?
Routine brake service is absolutely vital to your vehicle's health. Getting your brakes checked regularly shields you from any unexpected brake problems or repairs, or excessive damage caused from a faulty part. We recommend you bring your car, truck or SUV in about every 10,000-15,000 miles for an inspection. During a brake inspection, a Ford-certified service specialist will replace your brake pads and make sure that everything is running smoothly.
Why Are My Brakes Making That Noise?
If you've gone a while without a brake inspection, you may start to notice some issues. It's important that you seek Ford service right away if you are experiencing any of the following: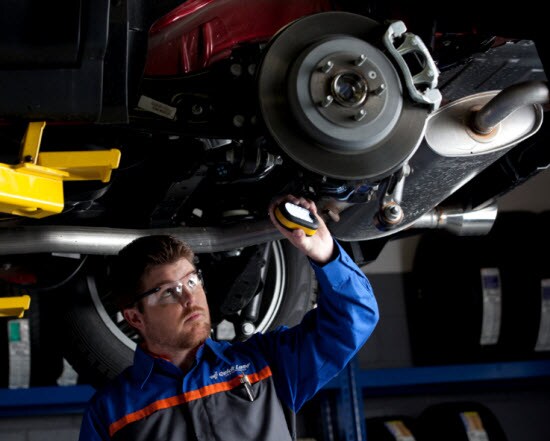 Squeaky, squealing or grinding brake noises
The brake pedal feels soft or spongy, or touches  the floor
Your vehicle jerks to the side when braking
The brake pedal or steering wheel vibrates when  stopping
Your vehicle is slow to stop
These problems could point to several different issues going on within your braking system, from worn brake pads or shoes to uneven rotors to leaking brake fluid. Never ignore any unusual brake behavior--this will only cause more damage and could even lead to brake failure.
Where Should I Take My Car for Brake Service?
When your Ford needs brake service, schedule an appointment with Peoria Ford! Our fully equipped auto repair center is staffed with some of the best Ford-certified service technicians in the business. Whether you come in for a Ford brake pad replacement or a rotor replacement, you'll drive away satisfied with your quality service.