Ford cars, trucks, and SUVs offer drivers a safe, fun vehicle, but do not think that they'll last forever without enduring a few problems along the way. The transmission is an important part of the vehicle. Along with the engine, the transmission keeps your vehicle running efficiently. Transmission trouble is common as the vehicle ages and wear and tear begins. Luckily, those worries are null and void when you schedule Ford transmission service at the first sign of trouble. To ease some of your transmission worries, here are a few common questions and answers that can help prolong the life expectancy of your vehicle.
When Should I Change My Vehicle's Transmission Fluid?
Automatic transmission fluids should be changed more often than manual transmission fluid. However, the frequency of such transmission fluid changes varies from one vehicle to another. As a general rule, it is a good idea to change the fluid ever 36,000 miles or every three-years. Follow the recommendations your vehicle owner's manual to learn the proper schedule.
Why Should I Change the Transmission Fluid?

Transmission fluid provides the proper lubrication necessary to keep your transmission running smoothly. The fluid breaks down over time, leaving behind sludge and an unprotected transmission. Regular transmission fluid changes prolong the life expectancy of the transmission and the overall performance of the vehicle.
What Does Transmission Fluid Look Like?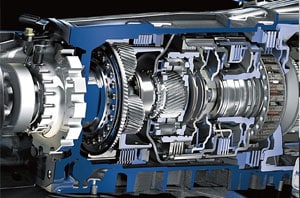 New transmission fluid may be transparent or red in color, depending on the type of fluid inside the vehicle. Transmission fluid is odorless unless there is a problem. When there is a leak, for example, you may notice it smells like the fluid is burning.
How Do I Know My Transmission Needs a Repair?
There are many signs that indicate trouble with the transmission. Do not ignore those signs because they won't simply go away on their own. Most common signs that your transmission needs professional repair include slipping, a knocking sound coming from the transmission, and leaking fluids.
What's the Cost to Repair a Transmission?
You can request an estimate to learn exactly how much it will cost to repair your transmission. Take advantage of special deals and service specials to keep the costs low. There are several factors that impact the costs of a repair, so do keep this in mind when requesting estimates.
Service Hours
Monday

7am-6pm

Tuesday

7am-6pm

Wednesday

7am-6pm

Thursday

7am-6pm

Friday

7am-6pm

Saturday

7am-5pm

Sunday

Closed