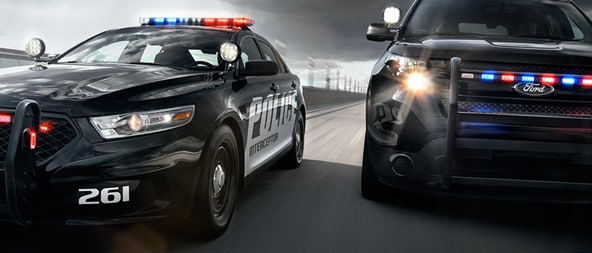 Peoria Ford has been awarded the state contract for police cars! This is a BIG deal because it means that every new Ford police car you see on the road will have come from your trusted Ford Interceptor authority - Peoria Ford!
Your duty is to protect and serve. Our duty is to provide you with the best vehicles to get the job done. Peoria Ford is proud to offer its service men and women some of the most well-engineered police cars in the Phoenix area. The Ford Police Interceptor Sedan and Utility are precision crafted and fully outfitted to provide elite performance and maximized safety, and now you can find these new police cars for sale near your precinct. To demo one, please fill out the form on the right and one of our friendly representatives will contact you shortly.
PEORIA FORD'S GOT YOUR BACK: TAKE HOLD OF SAFETY & SECURITY
Pursuit-rated AWD and stability control4 deliver a ne-two punch of driving confidence, but you can never be too prepared; this is precisely why safety cell construction, boron steel, and the sophisticated Personal Safety System™ are standard.

The Ford Police Interceptor® is the only pursuit-rated vehicle certified to the75-mph rear-impact standard - this proud tradition of extreme protection is exclusive. Carry out your heroic deeds with the added protection of ballistic front door panels.
Safety is a key attribute of the Ford Police Interceptor Sedan and Utility, so even when you're performing more aggressive driving feats, you can feel confident and secure. If you've been searching for a police car sale in Phoenix, Tempe Mesa, Glendale, Scottsdale, Avondale or any other nearby city, Peoria Ford is one of your top resources. Contact us today to schedule an appointment for a test drive and get ready to take hold of truly sophisticated craftsmanship.
BUILT TOUGH: SPECS FOR POLICE CARS ON SALE NEAR PHOENIX AZ
Police Interceptors arm you with exceptional durability and reliability developed to endure the punishment of daily duty -- for years of hassle-free service. They're built with: Heavy-duty independent suspensions, heavy-duty anti-lock disc brakes, heavy-duty steel wheels, heavy-duty cooling system, heavy-duty 220-amp alternator, heavy-duty powertrain mounts and heavy-duty door tethers.

The Sedan and Utility are based on CVPI real-world experience - refined from the get-go with insights from the industry-first Police Advisory Board (PAB): 26 serving and law enforcement experts from the US and Canada.
Ford took the time to really understand your needs and even consulted with law enforcement authorities to ensure that their engineers crafted the best possible police cars. Built from the ground up with numerous high-quality, heavy-duty parts, the new Ford Police Inceptor Sedan and Utility offer unprecedented durability for when you need it most. Peoria Ford is not only proud to offer some of the best law enforcement vehicles on the market, but also some of the best police car sales near Phoenix.
HIGH-PERFORMANCE, ALL-WHEEL-DRIVE POLICE CARS NEAR PHOENIX, TEMPE & MESA
STANDARD - pursuit-rated all-wheel drive (AWD)2 is your right-hand man:
It's police-calibrated for aggressive driving, plus enhanced handling and precise control; by the milliseconds, this self-activating system preemptively distributes torque among all 4 wheels to help prevent wheel slip in all weather conditions and on all road types.
V6 powertrains provide you with a fuel-economy bump - as well as a performance boost - versus the 4.6L V8 CVPI, while the 6-speed transmission is police tuned, adjusting to your driving habits.
Police-programmed AdvanceTrac® stability4 gives you the confidence to hit corners hard:
Its 4-wheel ABS, traction control and yaw sensors team up and take corrective measures in an instant.
4-wheel anti-lock disc brakes are of the high-performance variety to stop you as rapidly as you accelerate - the massive high-thermal-capacity brakes feature a 60% greater swept area compared to the Crown Victoria Police Interceptor (CVPI)
You've got the power of choice - an all-V6 lineup paired with AWD: SEDAN UTILITY
365 hp = V6 3.5L Eco Boost®5,6 304 hp = V6 3.7L Ti-VCT6
All-new 305 hp = V6 3.7 Ti-VCT5,6
288 hp = V6 3.5L Ti-VCT6 (standard)
We're proud to help local law enforcement companies access some of the best police car sales in the Phoenix metro area. For even more information about Peoria Ford's Police Interceptors, contact us today by filling out the form at the top right of this page. We'll have one of our experts contact you shortly about scheduling a demo and they'd be happy to answer any questions you might have at the time.
Behind the wheel of the Ford Police Interceptor Sedan and Utility, you'll get the hard-hitting performance and reliable safety features you're looking for. Plus, you can depend on these police cars to stick it out through years of hard use. Thanks to a combination of intelligent design and high-endurance materials, you can count on the fact that these vehicles are up to the challenge of facing the hardest tasks, and that they'll perform at the same level of excellence year after year!
Whether you're looking for Tempe, Mesa, Glendale or Phoenix police car sales, it's worth the drive to Peoria Ford! Contact us today for more information!
Make an Inquiry
* Indicates a required field
Fleet Hours
Monday

7:30am-9pm

Tuesday

7:30am-9pm

Wednesday

7:30am-9pm

Thursday

7:30am-9pm

Friday

7:30am-9pm

Saturday

7am-9pm

Sunday

9am-7pm